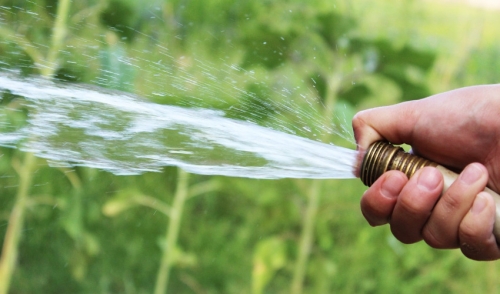 Recently while I was in the local hardware store, I heard someone use the common phrase – 'the early bird gets the worm.' I must admit there's a lot of truth to that, but I would like to add one more thing to do that and it's to say the most prepared bird gets the worm. What does that mean and what does it mean for spring and lawn care? It means that the most equipped and prepared individual will reap the highest benefit come summer and fall. The potential benefits when it comes to lawn and garden care are greener grass, no dead spots, brighter flowers, and maybe even food for your table depending on how far you intend to go this year.
Renting lawn equipment this spring will put you on the fast track to backyard success by allowing you to rent different pieces of equipment whether heavy, small, or large while keeping your wallet intact. One piece of equipment homeowners should rent more often is an aerator. Aerators can come in many different sizes and options. Instead of purchasing a pair of aerator sandals like Earl Hindman in an episode of Home Improvement, step your game up a notch and rent a aerator attachment for a riding lawn mower you may own or a gas powered auto-aerator that can get the job done in half the time at an equivalent price point. After all, if you are only renting the item by the hour, chances are you going to get a rate that can't be beat for the amount of time and effort you would put in if you used shoes. You could also take it one step further and rent a dethatcher that could also aerate your lawn. Now we're killing two birds with one stone. Not only are your feet going to thank you, so is your lawn as you remove dead grass and open the roots of your lawn to absorb more water, fertilizer, and other nutrients. Another good example of an item you should rent is a chain saw. For homeowners, chainsaws are not always a must have in the garage type of item. It's not everyday that life will require you cut down a tree. However, if the opportunity presents itself go out and rent a nice one to get the job done. Other options to rent to help get through spring include a chipper or shredder for mulch and old trees, a power rake to remove dead grass or tough weeds, and a seeder for fertilizing large areas in a short amount of time. One of the biggest reasons renting is such a good option is that it saves space from having to store all the equipment previously described. Many of these items do not fit into compact space, nor can they be broken down to fit smaller spaces. A garage can only hold so much so why not let your local hardware store hold a few things and you can pick them up whenever and for however long you may need them at a fair price point.
The most prepared DIYer is the most equipped to have a successful outdoor season. Make your spring easier by visiting your local hardware store or rental dealer to talk about rental equipment that your lawn and garden can benefit from.